The Race to Make the Thinnest Watch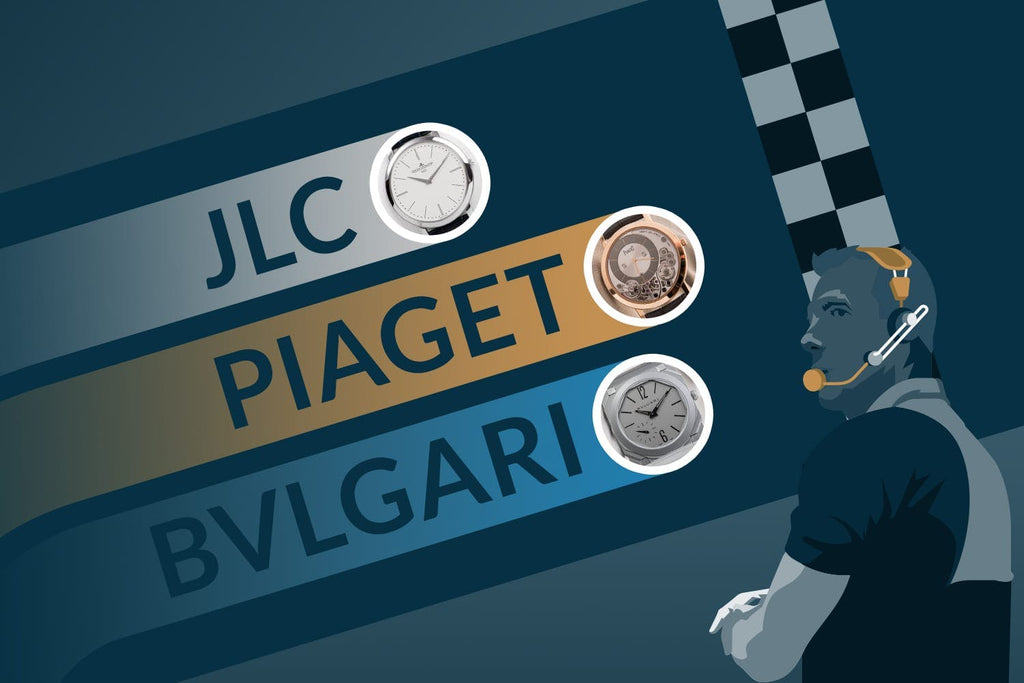 Until recently, Bulgari was best known as a high-end Italian jeweler. In fact, in most circles, that's all they were known for. This was a problem for the brand's watchmaking division. They needed a way to get people's attention, especially that of serious watch lovers. This meant demonstrating their ability to make luxury watches that were every bit as desirable as their exquisite jewelry. Bulgari decided to do the thing many brands (and people) do when they're looking to make a name for themselves: They picked a fight.
Piaget 9P
The Quest for Thinness 

Thin watches are nothing new. Look at vintage watches from the 1930s and 40s and you'll find a vast array of slim cases. It wasn't until the 1950s and Rolex's first forays into tool watches that cases started to become thicker and more robust.

Nevertheless, there are a few brands who specialize in making seriously thin watches (with even thinner movements inside). These include established names like Jaeger-LeCoultre and Vacheron Constantin. However, the one brand perhaps most closely associated with thin mechanical watches is Piaget.

Piaget has been making ultra-thin movements since the late 1950s, beginning with the caliber 9P in 1957. This manual movement was only 2 mm thick. It was followed by the 2.3 mm thick 12P ultra-thin automatic mechanical movement in 1960. More than two dozen ultra-thin movements have since followed. The brand has practically built its legacy on building world-record holding ultra-thin movements and housing them in elegant dress watches.

That's the exact legacy Bulgari targeted in order to make a name for themselves. 
Bulgari Octo Finissimo Automatic – View offers on Chrono24
Image: Bert Buijsrogge
 
Three Watches, Three Records
Although Bulgari is first and foremost a jeweler, the company made two strategic acquisitions several years ago when they purchased haute horologerie manufacturers Daniel Roth and Gerald Genta. These acquisitions immediately gave the company the required resources and skills to begin developing its own movements. These weren't just any movements, however. No, the focus was on building world-record-breaking, ultra-thin movements. And that's exactly what they did.

In 2014, Bulgari unveiled the world's thinnest tourbillon watch. The caliber BLV268 powers this timepiece. This manual movement is equipped with a flying tourbillon, only 1.95 mm thick, and housed in a 5 mm thick Octo case. To achieve this, all of the movement's components had to be slimmed down as much as possible and the space between them reduced to a minimum. Several moving parts use ball bearings instead of jewels. For example, three ball bearings allow the barrel to rotate, thus optimizing the available space. What's more, a flying tourbillon requires less space than a standard tourbillon since it's supported from the base plate and has no need for an upper bridge.
 
Bulgari Octo Finissimo Tourbillon
Image: Bert Buijsrogge
 
It's no exaggeration to say that the Bulgari Octo Finissimo Tourbillon caused quite the sensation when it was unveiled. However, this was just the beginning of a series of record-breaking watches from the company. In 2016, they introduced the Octo Finissimo Minute Repeater, the world's thinnest watch with a minute repeater. The BVL 362 caliber is comprised of 362 individual components, yet measures a mere 3.12 mm thick. (The entire watch comes in at 6.85 mm). Again, Bulgari's watchmakers had to use every space-saving trick in the book. That's why the movement uses a flat-spring barrel, as well as a "hanging" mainspring barrel and crown wheel to cut down on the movement's total height.
 
Bulgari Octo Finissimo Tourbillon
Image: Bert Buijsrogge
 
It was Bulgari's third and final piece, however, that would strike a major blow to the heart of Piaget and other Swiss watch manufacturers. Bulgari released their now-iconic Octo Finissimo Automatic in 2017. This impossibly thin watches houses the world's thinnest automatic movement: the caliber BVL138. At just 2.23mm thick, it easily beat the previous record of 2.45 mm, held by Vacheron Constantin's caliber 1120. In total, the final watch is 5.15 mm thick. A sapphire glass case back offers a view of the integrated micro-rotor made of 950 platinum, which provides this timepiece with its impressive 60-hour power reserve.
 
Piaget Altiplano Ultimate Manual - Find offers on Chrono24
Image: Bert Buijsrogge


The Response
To many, this seemed like a direct challenge to Piaget's dominance of the mainstream ultra-thin watch market. The Octo Finissimo Automatic is a watch meant for everyday wear, much like Piaget's Altiplano collection. Up until this point, Piaget had basically been passing the record for the thinnest watch back and forth with their Richemont sister company, Jaeger-LeCoultre.

In 2013, JLC introduced the Master Ultra Thin Jubilee, equipped with the world's thinnest manual caliber. This movement is just 1.85 mm high, allowing for an overall case thickness of 4.05 mm. Piaget responded in 2014 with the revolutionary Altiplano 900P, which featured a manually-wound movement incorporated directly into the case back. The final watch measured an even thinner 3.65 mm. JLC responded in the same year with the Master Ultra-Thin Squelette, coming in at 3.6mm.

These were all powered by manual movements, though. Besides that, both brands belong to the same luxury conglomerate and had decades, if not centuries, of experience and expertise. Bulgari, on the other hand, had only started making serious pieces of haute horologerie barely a decade prior.

Something had to be done.
Jaeger LeCoultre Master Ultra Thin - Find offers on Chrono24
Image: Bert Buijsrogge
 
The response from Piaget was swift and decisive. The addition of a micro-rotor to the 900P's caliber resulted in the Altiplano Ultimate Automatic, measuring 4.3 mm thick. This instantly confirmed its status as the world's thinnest automatic watch. Although, ironically, because the case back serves as the movement plate, to which the 219 components are affixed, the movement itself is also 4.3mm thick. Meaning Bulgari still makes the world's thinnest automatic movement currently in production.

Of course, that's probably of less concern to Piaget since they unveiled the world's thinnest mechanical watch ever in 2018. Aptly named the Piaget Altiplano Ultimate Concept, it measures an impossibly thin 2 mm. Sadly, it is not a consumer product, but its development has resulted in the creation of five patents. It will be interesting to see how Piaget incorporates those innovations into future models in the never-ending race for the thinnest watch.