Brief History of the SIHH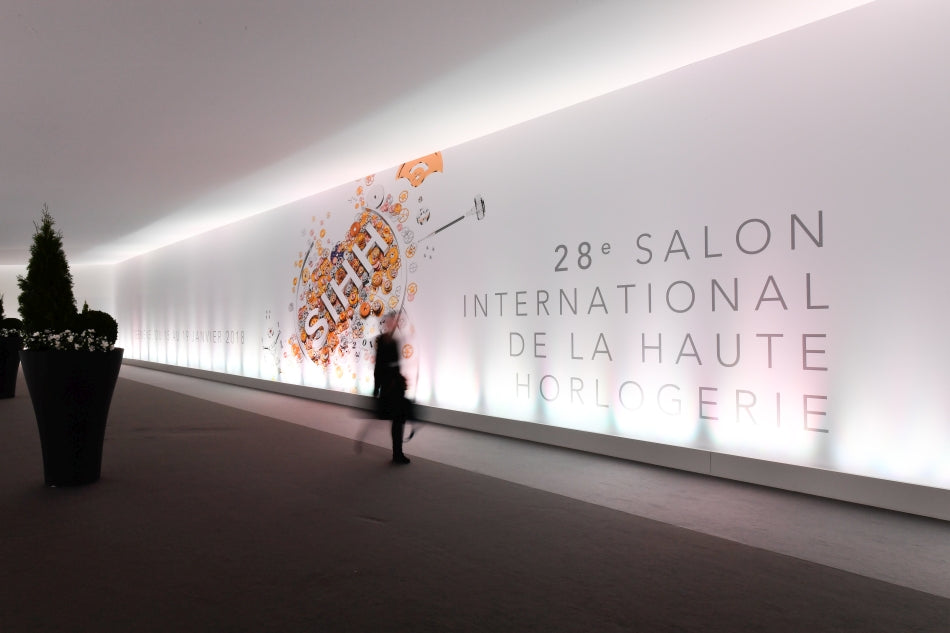 Image: SIHH
 
Chances are you've never been to the SIHH before. If you have, you belong to a rather exclusive club. Held in Geneva each January, it is the first major watch fair of the horological year, with several of the world's most prestigious luxury watch brands exhibiting their latest creations. Up until 2017, however, it was very much a closed-door affair. Only members of the trade and press were permitted to attend (doors are now open to the public on the final day of the show). As a result, attendee numbers sit around 15,000, a mere fraction of the volume of visitors to Baselworld. This sense of exclusivity has been purposefully engineered, however, and is very much in the spirit of the show's founding philosophy.

Although Baselworld and SIHH are both major trade fairs for luxury watches, the two could not be more different. The former is a behemoth, attracting some 1,000 exhibitors from over 40 countries and a further 100,000+ visitors. The latter meanwhile, only plays host to 35 carefully selected and curated brands; 18 Historic Maisons (primarily made up of brands from the Richemont Group like IWC and A. Lange & Sohne) and 17 brands in the Carré des Horlogers (high-end independents like F.P. Journe and Greubel Forsey). This stark contrast between the two shows can be traced right back to the SIHH's beginnings.
 
Image: SIHH
 
Established in 1991, the SIHH was a deliberate attempt by Cartier – along with Baume & Mercier, Piaget, Gérald Genta and Daniel Roth – to create a more exclusive trade show dedicated to fine watchmaking. At the time this was quite a big deal. Baselworld traces its origins all the way back to 1917 and was seen as the trade show for watches. Could members of the trade be wooed to visit a second show at a separate venue? As it turns out, they could, and the SIHH continued to grow in size and popularity.

Held over 5 days, the SIHH offered (and continues to offer) a very different format to that of Baselworld. The main focus is of course the brands exhibiting their latest models in luxurious booths replete with free-flowing champagne and celebrity appearances. However, there are also a series of talks, round-table discussions, and exhibitions geared towards promoting the art and culture of fine watchmaking.

This is something that has always been very much at the core of the SIHH's founding philosophy, which states that its key goal is the preservation of the culture of time measurement and the promotion of watchmaking techniques and expertise. This innovative approach has become somewhat of a blueprint for other international watch fairs, such as Dubai Watch Week and Salon QP in London.
 
Image: SIHH
 
Who Owns the SIHH?

Given the list of attendees, some people have the mistaken impression that the SIHH is owned in some way by the Richemont Group. While it's true that Richemont brands exhibit at SIHH and Swatch Group and LVMH brands exhibit at Baselworld (at least Swatch Group used to – more on that in a minute), SIHH is actually organized and managed by the Fondation de la Haute Horlogerie (Foundation for High Horology). An independent organization established in 2005, its remit is to safeguard and promote fine watchmaking all over the world, which it does in part by organizing events.
Challenges

Depending on how closely you follow the horological news, you may have already read about some of the challenges faced by the major watch fairs. The most notable one, of course, was the unexpected departure of Swatch Group from Baselworld. Earlier this year, the mega group announced that none of its 18 brands would be exhibiting in 2019. That includes major names like Omega, Longines, Tissot, Breguet and Blancpain. Other brands, such as Raymond Weil and Maurice Lacroix, have also since pulled out of next year's show. The SIHH hasn't experienced quite the same degree of exodus, but both Audemars Piguet and Richard Mille have indicated they will not return after 2019.
Image: SIHH
 
The underlying reason for these departures seems to be a general feeling that the major fairs have not evolved with the changing tastes of consumers and the changing needs of brands; not to mention the extortionate prices charged by opportunistic hoteliers and restauranteurs looking to exploit the influx of visitors to Geneva and Basel each year. In response to this feedback, both fairs have promised changes will be made. The most significant change to be announced so far is a coordination of dates from 2020. This means that after next year, the SIHH will be held on the 5 days immediately preceding Baselworld.

What To Expect in 2019?

Although it's still early, it seems a few trends are already emerging for SIHH 2019. As is often the case in times of uncertainty, brands are turning to their heritage. IWC is refreshing its popular pilot watch collection, with several lovely vintage-inspired pieces. Jaeger-LeCoultre and Vacheron Constantin are doubling down on their reputations for exceptional craftmanship and expertise in haute horology, and Cartier and Piaget will introduce several jewellery-inspired pieces.

All in all, the SIHH promises to be another interesting and exciting show, providing a bellwether on the industry as a whole and the trends we can expect for 2019.