Top 10 Watches: The Biggest Watch Icons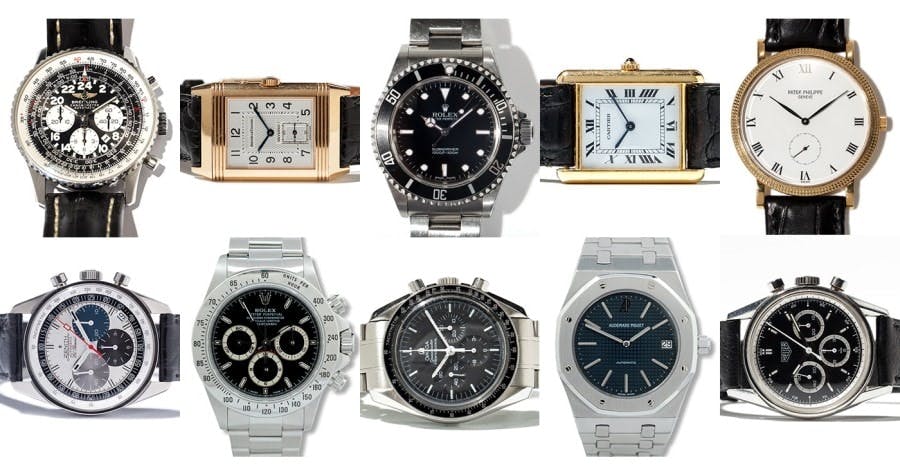 The terms 'watch icons' and 'cult watches' are used to refer to those timepieces that – most of the time – have been around for decades and gained a certain importance with regards to design or style. They are timeless classics that have only undergone slight changes over the years, most of which were in regard to small design details or under the hood. Watch journalist Michael Balfour even wrote a book on the subject in 2007 (Cult Watches: The World's Enduring Classics) in which he shows the readers a number of watch classics. He covers a wide range of watches that have received 'cult status' for various reasons: from the plastic Swatch watches to the Rolex Cosmograph Daytona, they are all in there.

Although I certainly think and feel that a Swatch or even Ingersoll's Mickey Mouse watch were important to the watch industry and in particular to watch consumers, I decided to write down my Top 10 watch icons. This article narrows it down to a Top 10 of iconic watches that are still in production today and that belong to the luxury segment of watches.

All watches in this list are models that you will immediately recognize, even if I were to remove the brand and/or model name from their dials using photo-editing software. These models are to watches what the 911 is to sports cars, the Eames lounge chair to furniture, or the Ray-Ban Wayfarer is to sunglasses. They are easy to identify and will never go out of style. They appear to have a Teflon layer to protect them from changes in fashion even though they were once introduced to fit the fashion style of the time. They have a worldwide audience that recognizes them for their design, quality and fame.
Omega Speedmaster Moonwatch, Image: Bexsonn
 
You might ask yourself – and many do – whether or not these watches are perceived as being boring or dull. While some people who are into ultra modern watches or crazy 'out-of-the-box' designs will probably say they are, the statistics we have available on visitor's behaviour on Chrono24 proves just the opposite. These iconic watches still know how to mesmerize thousands of watch enthusiasts; the demand for them is sky high.

Of course, this is not the definitive Top 10 of watch icons. Some people might disagree on a few models that I've selected, but in the end it is probably only a matter of personal preferences or the particular order.
Rolex Cosmograph Daytona
Rolex Cosmograph Daytona - View offers on Chrono24
 
The Rolex Cosmograph Daytona almost needs no introduction. This 50-year-old chronograph model is probably the most sought-after sports watch worldwide—in particular the vintage models fetch high prices at auctions. One of the so-called Paul Newman Daytonas fetched $1.1 million USD at Christies in the year 2013.

There is no logical explanation for such an amount for a stainless steel watch, but the fact is that it proves the iconic status of this chronograph from Geneva. Whether it is a vintage Daytona or a brand new Daytona, they will always be recognized by enthusiasts and collectors as a highly praised timepiece.
 
Rolex Submariner
Rolex Submariner - View offers on Chrono24
 
This is the mother of all diver's watches, with a water resistance of 300 meters (or 1000 feet). Whether you want a nice vintage model in pristine condition to show off to your watch collecting friends or a pre-owned 10-year-old Submariner No Date as a daily beater watch, you can't go wrong with any of the Submariner models.

The Submariner has been worn on the wrists of many famous people: Sean Connery as James Bond, Steve McQueen, Robert Redford, Sylvester Stallone, Eric Clapton, and so on. It is probably the one watch that you will encounter many times in the flesh no matter where you go. It is a no-nonsense diver's watch that will last a lifetime. Or two.
 
Omega Speedmaster Professional
Omega Speedmaster Professional Moonwatch - View offers on Chrono24
 
Although it was never meant to become a Moonwatch (but rather a sports chronograph), it did, and that was – and still is today – the best marketing that has ever been done for a watch. The Speedmaster was introduced in 1957, and after a few initial adjustments to its appearance in the late 1950s and early 1960s the watch as we know it today has remained almost unchanged.

Nowadays the hand-wound Speedmaster Professional is a classic and one of the iconic watches that has remained so close to its original ancestor. It was and still is the official watch for extra-vehicular activities performed by NASA astronauts—it was tested thoroughly in 1965 for the Apollo space programme and recertified for the Space Shuttle programme in 1978. If it is good enough for NASA, it is probably good enough for you.
 
Breitling Navitimer
Breitling Navitimer - View offers on Chrono24
 
Although the Speedmaster is considered to be the real Moonwatch and the official watch to be used in space by NASA, the Breitling Navitimer was actually on the wrist of astronaut Scott Carpenter when he orbited Earth three times aboard of the Aurora 7 capsule in 1962. This is not actually what makes it so special or sought-after; rather, it is the design of this pilot's watch that makes the heart of a lot of watch fanatics' tick faster.

It has a bezel with a slide rule that enables pilots to do simple calculations with regards to speed or fuel consumption. Although Breitling has used various movements for the Navitimer since its introduction in 1952, the design has remained unmistakably Navitimer.
 
Patek Philippe Calatrava
Patek Philippe Calatrava - View offers on Chrono24
 
Not the oldest watch in this list, but the Calatrava does date back to 1932. Patek Philippe introduced the Calatrava reference 96 as their dress wristwatch. It was in that same year that the Stern family acquired the Patek Philippe company. The Calatrava has remained in the collection ever since and is their iconic dress timepiece. A simple and clean design, everything seems to be correct when studying the shape of the case, the Dauphin-shaped hands and beautiful dial.

The Calatrava has seen some changes over the years – albeit very small ones – but the main difference between current models and those very early models is definitely the case diameter. It is now a whopping 39mm (pun intended) and has the self-winding caliber 324 SC movement inside.
 
Audemars Piguet Royal Oak
 Audemars Piguet Royal Oak - View offers on Chrono24
 
Though Gérald Genta was once on Omega's payroll, he was one of the first designers to start his own company specialized in designing watches. In 1971 Audemars Piguet asked him to design a stainless steel luxury sports watch, which – according to the story – he did overnight. The result was introduced at the Basel exhibition in 1972. The Royal Oak 'Jumbo' in stainless steel—which at the time had a list price of 3300 Swiss Francs—had the same value as about 10 Rolex Submariner watches.

The octagonal bezel, super thin case, beautiful combination of polished and brushed surfaces on case and bracelet, dial with Clous de Paris finish, and its superb movement made it an all-time classic that is still in production today. Actually, Audemars Piguet introduced a newer version of this Royal Oak 'Jumbo' in 2012 that is very close to the original 1972 model.
Zenith El Primero
Zenith El Primero - View offers on Chrono24
 There is a bit of debate on who produced the first automatic chronograph movement, but let's just say that the El Primero was among the first to do so in 1969. The others were Seiko and the Chromatic Group (a joint effort by Breitling, Hamilton-Buren, Heuer and Dubois-Depraz). In the end, the Zenith El Primero is still the only movement used by these three competing parties. With its high beat movement (36,000 beats per hour instead of the more common 28,800 and 21,600 beats per hour movements) it enables the wearer to measure time to as accurate as 1/10th of a second.

The El Primero movement has also been used in TAG Heuer, Ebel and even Rolex watches. Even the Daytona had an El Primero movement inside between 1988 and 2000. Although the El Primero collection consists of a lot of different models these days, the El Primero Original 1969 is the one that comes close to the original.

TAG Heuer Carrera
TAG Heuer Carrera - View offers on Chrono24
 
Just last year TAG Heuer celebrated the 50th anniversary of the Carrera model that was introduced in 1963 (like the Rolex Daytona). The designer of the watch, Jack Heuer, recently resigned and is now hopefully enjoying his well-deserved retirement. The Carrera chronograph was named after a race called Carrera Panamericana, which is a border-to-border sports car racing event.
 
Cartier Tank
Cartier Tank - View offers on Chrono24
 
The Tank is not the oldest wristwatch (the Santos is) Cartier ever made, but it is definitely interesting and is the oldest model in this Top 10 overview of iconic watches. Based on the design of Renault tanks used in World War 1, Louis Cartier introduced the rectangular Tank watch in 1917.

The Tank has been seen on the wrists of the likes of Jackie Kennedy, Warren Beaty, Angelina Jolie and so on. The Cartier Tank has seen many variations—there were even models with a mechanical digital time display and a reversible watchcase—but the classic Tank watch design is always recognizable. Perhaps the best-known Cartier Tank watches are the LC Tank and the Tank Francaise models.
 
Jaeger-LeCoultre Reverso
Jaeger-LeCoultre Reverso - View offers on Chrono24
 
The second rectangular watch in this Top 10 watch icon overview is the Reverso by Jaeger-LeCoultre. The Reverso was introduced in 1931 and is based on the idea that you could flip the inner case so the crystal would be protected from abuse during Polo games. The story goes that a Polo match played in India by British Army officers resulted in one of the players having a cracked crystal, which was a reason for Jaeger-LeCoultre to create a watch that could still be worn during these games without the risk of breaking the crystal.

In 2011 Jaeger-LeCoultre introduced the Reverso Tribute to 1931, 80 years after its first introduction and with the exact same dimensions as that very first Reverso model. The dial of the Tribute version also looks very similar to the 1931 Reverso (no mention of 'Jaeger-LeCoultre' on the dial, just 'Reverso'). In addition to this commemorative model, there are also a lot of variations available in the Reverso collection, including a range of different sizes for men and women.